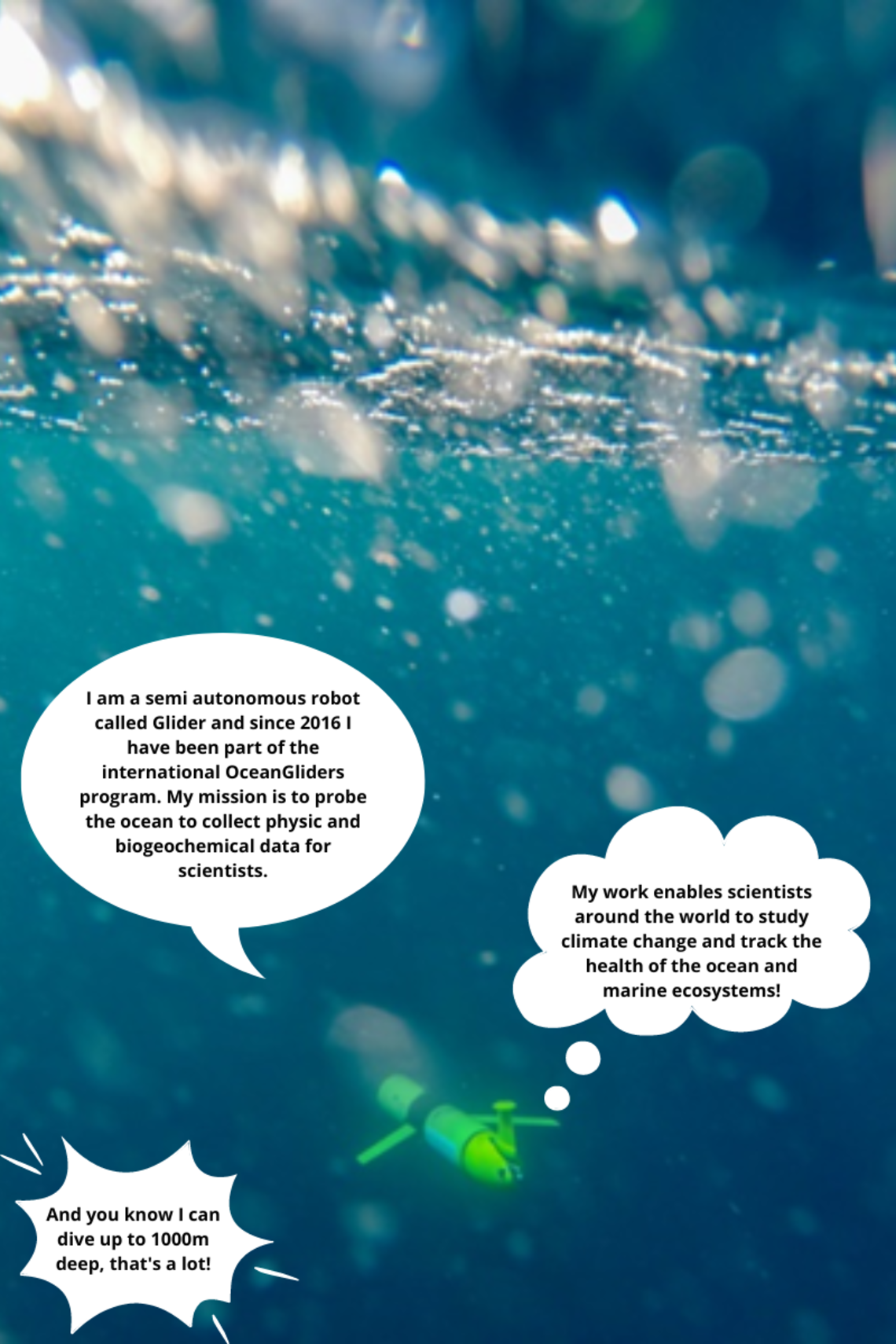 Brief History:
OceanGliders is an international program created in 2016 to support active coordination and enhancement of the worldwide glider activity. The program shares the scientific knowledge and practices needed to collect and analyse ocean data.
Description & functioning:
First conceived in the late 1980s, a glider is an autonomous underwater vehicle with no thruster or internal engine. It performs saw-tooth trajectories from the surface to depths of 1000m along programmable routes. It uses a pump to gently change its floatability over time, allowing it to rise and sink as it pleases.
It achieves forward speeds of up to 40km/day using wings and rudders. It is semi-piloted from the shore, which means that it uses ocean currents to move, but it goes to specific locations where the pilot wants it to. Once the waypoints are pre-programmed, it is free to collect physical and biogeochemical ocean data for months and over thousands of km, thanks to the various sensors mounted on the glider.After having collected data the glider ends its journey by surfacing and transmitting its position for recovery.
Deployment location:
Autonomous underwater gliders developed over the last several years, and now operated routinely, offer sustained fine resolution observations in both the coastal and open ocean.
Data collected:
Gliders record essential physical and biogeochemical ocean variables at high resolution during dives and transmit these data in near-real time to Earth via satellite when they are at the surface. Thanks to their various sensors they can measure:
Temperature
Salinity
Currents
Pressure
Oxygen
Nutrients
Ocean sound and color
Etc.
Societal applications
Ocean data measured by gliders are used by scientists for climate studies and to monitor ocean and ecosystems health, as well as by operational weather forecasting centers to improve weather forecasts. Some of the gliders data applications are:
Boundary currents study
Water transformations and variability monitoring
Hurricanes and storms forecasting
Observe variability, change and stress in marine habitats
etc.
If you want to learn more about this program, visit the website: https://www.oceangliders.org/