"The Ocean is my home" booklet
In this 20-page book, Jake the Turtle explains his role in observing the ocean and informs us that the ocean helps us all, even when we don't live underwater.
Individual or group activity
Duration: 40 min
Type of activity: reading activity for one or more lessons
Language: available in English, French, Portuguese, Spanish, and Italian
Material required: the book in print or digital form
   Download the book in the language you want:
© EuroGOOS/Dina Eparkhina/Karri Lehtonen
This book is meant to serve as a prompt to start a conversation between adults and children, to discuss the health and sustainability of our ocean.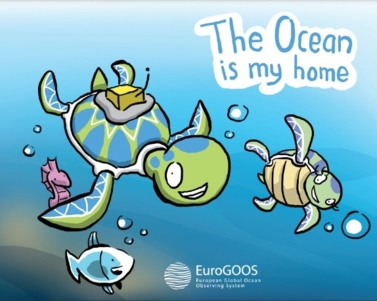 Jake the Turtle explains why the ocean is important for all of us, whether we live nearby or far away. He shows the role the ocean plays in the weather and water cycle, and what it means to collect ocean observations (Jake is part of the AniBOS network). The story concludes with examples of what each of us can do right away to take care of the ocean.
While the text is simple and recommended for children from age 5, the illustrations and ideas can be suited for older children. The book can be read with the child or used as a basis for lessons about sustainability.
Follow up with a colouring activity:
Meet the turtle scientists (5-8)
Discover all the instruments observing the ocean (5-8)
For older participants, try this other reading material: